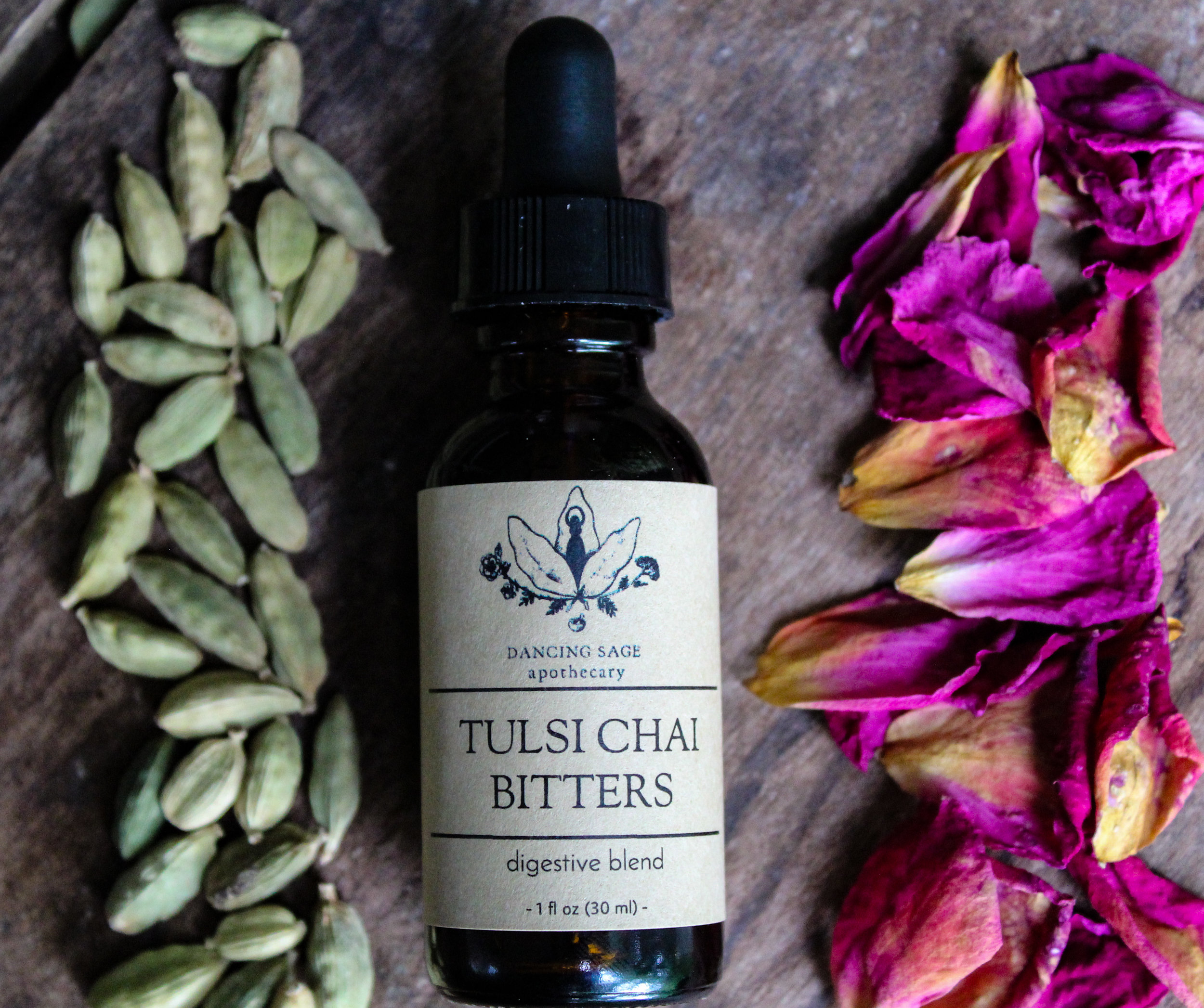 Tulsi Chai Bitters
This bitters formulation combines the tradition of Masala chai spices and one of India's most sacred plants, tulsi, or holy basil. Revered in Hinduism as an earthly manifestation of the goddess, tulsi also has an innate ability to soothe and ease, and adds a deliciously subtle floral flavor to the earthy, spicy chai mix. These herbs and spices are extracted in organic cane alcohol, and blended with rose-infused organic maple syrup, to deliver a well-rounded and flavorful bitters experience.
Chai, or Masala chai, is a traditional tea blend originating in India, composed of a plethora of aromatic herbs and spices. Usually mixed with milk and sugar, this tea has been enjoyed throughout the ages, particularly following meals, as the herbs and spices contained within were believed to aid in digestive processes.

Bitters, too, are an age old tradition in many cultures. Often times bitter and aromatic herbs were macerated in different types of alcohol, and then enjoyed before or after meals, hence apertifs and digestivs. Bitters became a flavorful way to craft new and exciting cocktails, while also enjoying the digestive benefits of the plants and herbs the extraction contained.

Try alone, mixed in sparkling water or juice, or blended into your favorite cocktail. Especially suited for use before, during, or after meals.

Contains: *tulsi, *ginger, *fennel, *cinnamon, *cardamom, *cane alcohol, *rose-infused maple syrup, distilled water

*organic
1 or 2 oz amber glass bottle with dropper.
Please recycle after use.
----------


These statements have not been evaluated by the FDA. This product is not intended to diagnose, treat, cure, or prevent any disease. Consult a healthcare professional before taking herbs if you have a health condition, are pregnant, nursing, or on pharmaceutical medication(s).